Combined Knowledge
Case Studies
We have provided education for over 1 million people since 2003. These are just a few of our customers that have gained expert knowledge and skills and successful user adoption by learning with Combined Knowledge.
Be prepared for a week of intensive learning and you will come away with a confidence in the product and your ability that other courses cannot match. The approachable and knowledgeable instructor was always available and happy to answer questions. Whilst the format ensured that a group of peers who didn't know each other at the beginning were helping each other as colleagues by the end of the week
Combined Knowledge works with a long list of blue chip, global organisations, well known brands and also small to medium sized business providing them with the education and support they need to get the most out of their Microsoft 365 environments.
Just a quick note to say that Rob's training was superb this week! What a difference it makes to have someone who knows and loves the subject training you! Can't recommend him enough!
The best course I have attended in the last 10 years!
The tutor had excellent people management – the course content was excellent
Here we tell the story behind a selection of projects giving you an insight into how Combined Knowledge enables organisations to unlock the full potential of their chosen platforms.
Driving Consumption, Productivity and Adoption of Microsoft Teams and Office 365 for their global workforce.
IOP Publishing (IOPP) combines the values of a scholarly society with the technical expertise and efficiency of a substantial global publisher. As part of the scientific community, they work in close collaboration with their authors, readers and customers to ensure that what they do always serves their needs.
IOPP embarked on building a modern digital workplace to enable agile working for up to 450 staff across 8 different countries, serving their customers and the research community.
This global business needed to collaborate seamlessly across their sites, anytime, anywhere and on any device and they chose Microsoft Office 365 as their digital workplace platform to enable this.
IOPP are passionate about user experience, their focus was to increase collaboration and teamwork throughout their global workforce.
IOPP's biggest challenges were to prepare the business for a new way of working, train over 450 employees globally in a short space of time and to drive adoption of the new tech, during what was already a large-scale digital transformation change program. For a roll out of this size IOPP quickly realised that they needed to engage with a change and adoption specialist, and they turned to Combined Knowledge to help them in their journey.
Using the Combined Knowledge framework IOPP were able to engage staff early on, creating a wave of excitement through buzz days and awareness campaigns to help them to understand and get ready for the upcoming change.
Combined Knowledge worked closely with IOPP learning about their business culture, aligning a custom training and adoption roadmap to train their staff globally and effectively to maximise return of investment in Office 365.
Phase one was to upskill the service desk team in Office 365 and to develop a unique skills programme for the Champions focusing on Microsoft Teams, Yammer and OneDrive. Combined Knowledge experts helped IOPP to identify when to use what tools and applied real world business scenarios to help resonate with the users,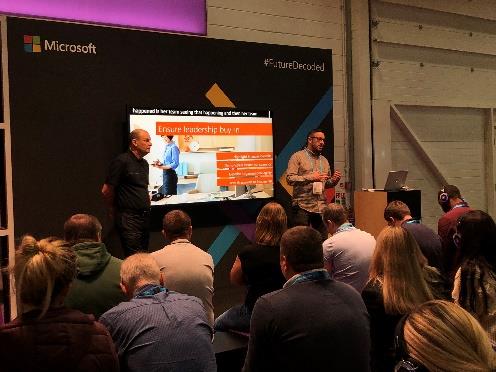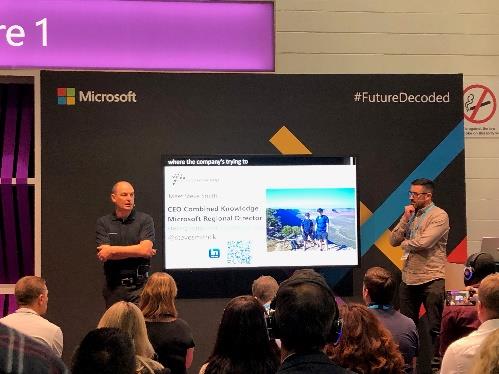 Steve CEO of Combined Knowledge and Lee of IOPP talking about the successful project at Microsoft Decoded.
The on boarding of the Champions was paramount and the key
to the IOPP success story, driving the adoption through the
business units globally.
IOPP's subsequent challenge was to train the wider audience.
Combined Knowledge and their Training+ Office 365 Azure
app were able to provide IOPP with cost effective on-demand
digital learning on-tap at their precise moment of need, both at
their desk and when working remotely. IOPP were able to selfserve using modularised bite size training videos at their fingertips. Office 365 is evergreen and constantly changing.
Training+ gave IOPP the ability to keep up to date with the
latest Microsoft releases and pull crucial learning whenever
they need it.
IOPP built the right team with clear targets, goals and on
a medium sized budget. Together with the Combined
Knowledge methodology they took the stress out of
change!.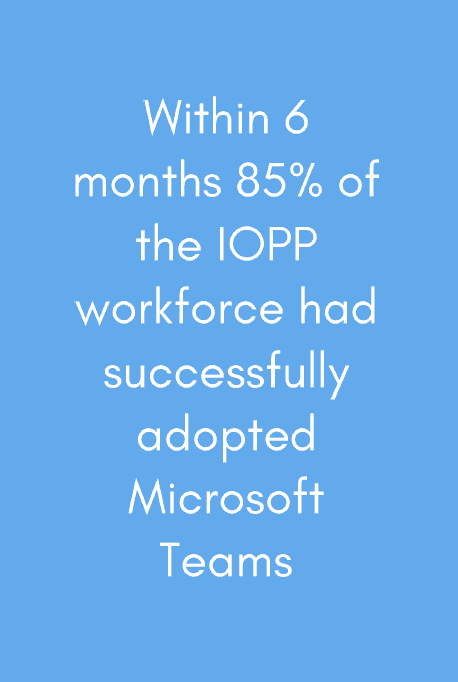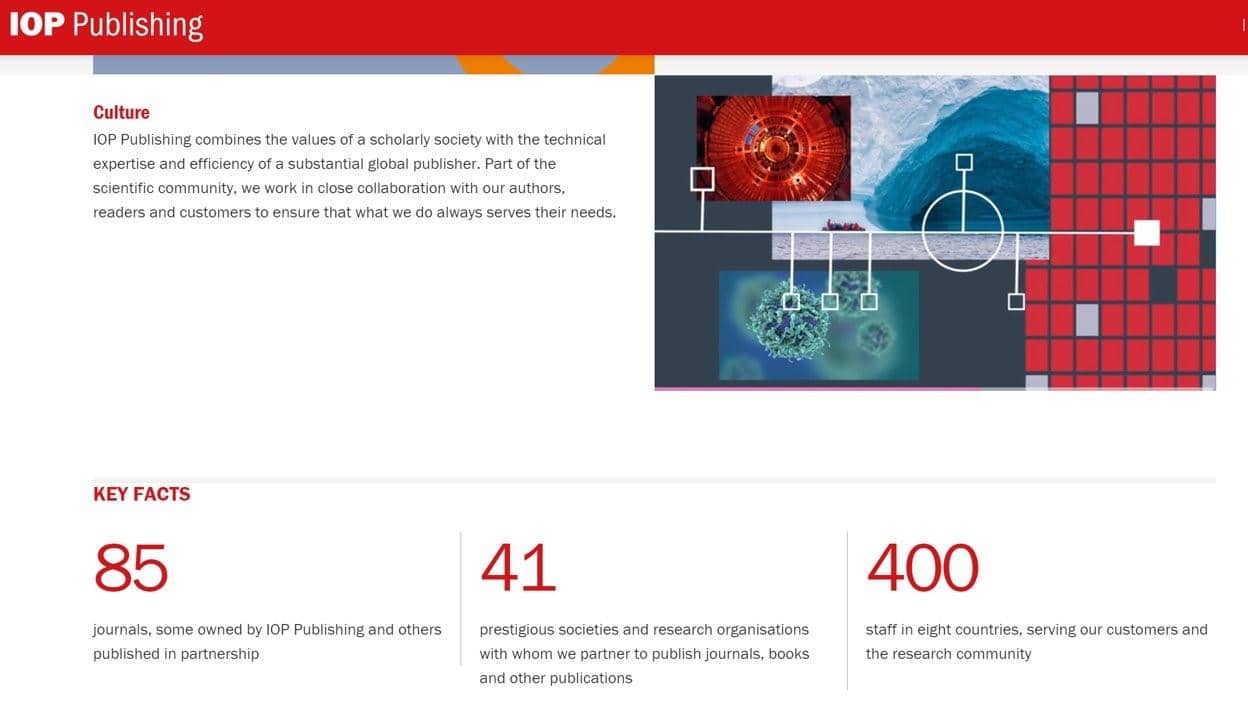 Driving Office 365 Productivity and Adoption Across Global Locations
Yildiz Holding brought together its core biscuit and confectionary businesses Godiva Chocolatier, Ulker, United Biscuits and DeMet Candy Company to form a new global company, Pladis. This created CEEMEA's largest food company boasting over 350 years of family brand heritage. With this came the challenge of uniting 26,000 people, based at 34 sites across 13 countries. This new, global business needed to collaborate seamlessly across their sites and they chose Microsoft Office 365 as their digital workplace platform to enable this.
Pladis quickly realised that in conjunction with their technical project to facilitate the roll out they would require a strategy to drive skills and adoption. However, the global, disparate nature of their business meant it was going to be a challenge that required an innovative solution. After assessing their options, they turned to Combined Knowledge and their Training+ Office 365 Azure app to complement their drive for true transformation.
Pladis employees are able to self-serve, high quality 1080P, modularise Office 365 video learning at their desk or on the move from within their Office 365 environment. This approach not only provides the base level of knowledge each employee requires, it also allows them to continually build their skills, remain agile and up to date with all of the latest Office 365 developments. The benefit realisation is immediate as Pladis are able to push essential learning to their power user group to help them provide instant business support as well as allowing the wider population to pull learning as and when required.
Training+ has helped Pladis drive true benefit from their Office 365 adoption, ensuring a smooth transition to their new digital workplace was achieved with minimal disruption to business as usual. They are now also reaping the benefits of ongoing, up to date training content at their fingertips. All achieved in a cost effective way without the traditional classroom training headaches of cost, travel and time away from the office.
GM Financial (a global organisation of over 8,100 employees) commissioned Combined Knowledge to deliver a user adoption program to help facilitate their migration to SharePoint. 
The project involved the development of fully bespoke training in a range of delivery types for a global audience across 6 spoken languages.
See how this project was made a success in the video case study below:
Johnson Matthey an international speciality chemicals company, founded almost 200 years ago, wanted to put a 10 year business strategy in place to promote collaboration and communication across the organisation. Johnson Matthey wanted to update their systems to be able to achieve this and by working with Combined Knowledge and partners developed and designed the myJM collaboration platform.
Watch the video story from The SharePoint Evolutions Conference in London.
Company profile
The RBS group is a large international banking and financial services company. From its headquarters in Edinburgh, the Group serves over 30 million customers. The group operates a wide variety of banking brands offering personal and business banking, private banking, insurance and corporate finance.
RBS serve 24 million personal, business and institutional customers in the UK, Europe, the Middle East, the Americas and Asia.
RBS has almost 115,000 employees and provides a wide range of products and services to personal, commercial and large corporate and institutional customers through their two main subsidiaries, The Royal Bank of Scotland and NatWest, as well as through a number of other well-known brands including Citizens, Charter One, Ulster Bank and Coutts.
Business situation
RBS in the deployment of SharePoint within the business identified a need to ensure collaborative working and adoption of SharePoint 2010 throughout three core regions, Americas, APAC and Europe.
RBS understood the challenges faced in ensuring that the business and users embraced the new technology and understood that they had to capture both the heart and minds of the user community to ensure successful adoption across the group.
The Key question RBS were asking is:
'What's the difference between the culture RBS has today and what are RBS looking to achieve?'
Staff buy in and engagement beyond rational understanding towards an emotional and sustainable behavioural change which will produce more efficient outcomes and will generate more satisfied employees.
Remove certain behaviours, habits and attitudes that are limiting the organisations potential
Promote and encourage existing and non-existing behaviours, habits and attitudes that work to improve success
Establish a long term and engrained adoption of the SharePoint 2010 product which is allowed to grow organically with governance.
SharePoint provided RBS with an information sharing platform, document management platform, business process management framework, workflow platform, and development foundation on which information worker solutions could be created.
Comprehensive business solutions can be created to support a company's information management and business needs. However, one of the great difficulties of a SharePoint deployment is ensuring user adoption, as an application driven by users, businesses need to ensure that users are enthused by what the product can offer, inspired by how efficient it can make them become and eager to learn about the new technology.
Requirement
As part of the process RBS asked the question:
How do you get people to give up current ways of working – approaches and technologies – and embrace new ways of working?
RBS identified a 4 stage adoption process to change behaviour and drive user adoption.

By identifying the 4 stage process, RBS wanted to find an external education provider that would provide them with the knowledge, skills and learning platform to provide their user community with the understanding, awareness enthusiasm and learning platform to ensure that each phase is delivered to meet the exact needs of the business.
Solution
RBS wanted a provider that would be able to offer them an education solution that would meet the needs of the business on a Global basis.
Combined Knowledge has specialised in the development and delivery of SharePoint Education and Support globally since 2003.
Combined Knowledge's key aim is not only to deliver the best training classes available but also to provide organisations with a complete solution for their SharePoint deployment. This is achieved by providing training to facilitate product installation and development through to ensuring successful user adoption with the addition of on-demand support for all users from one central source.
As specialists in content creation and customised learning solutions, Combined Knowledge was able to create custom solution for RBS utilising a range of effective delivery methods over a 12 month period. 
Communicate and Train
Combined Knowledge understands that user adoption does not happen overnight, the project plan needs to be in place with small steps taken over time to ensure user engagement. Communication and training were paramount to the success of the RBS project as was the ability to provide a long term support solution via our Support+ product.
Combined Knowledge worked with RBS to create a custom education roadmap to meet the needs of every role within the RBS environment.
Executive Meeting Presentations
To assist RBS in the delivery of their Executive meeting presentations, Combined Knowledge supplied a team of expert trainers to help the internal RBS presenter prepare content for delivery of internal Executive Meeting Presentation including the development of slides.
The sessions were created to provide executives within RBS with the following information:
What SharePoint is?
Outlining the Business Benefits of SharePoint for RBS
The Project Background and objectives
How SharePoint will help RBS in the future
How SharePoint would add business value to RBS
Executive Management Training
We delivered 150 in person 1:2:1, 30 minutes appointments with key executives and management helping them to understand how SharePoint will be of benefit to the organisation, these sessions were based on providing executives and management with an understanding of the impact user adoption of SharePoint would have on creating a more efficient and cost effective organisation and to demonstrate how SharePoint would integrate into their working practices.
Train the Trainer Knowledge Transfer
RBS had three internal trainers that needed to be able to understand the content to be able to delivery sessions internally. Combined Knowledge provide d the RBS Trainers with a Knowledge Transfer of key topics and related Train the Trainer information which was delivered to 3 Core locations, as 3 individual 1 day Train the Trainer classes focusing on key areas that the Trainers would need to get up to speed with to ensure they gained the required knowledge to assist with their internal training delivery.
Power End User Training
Combined Knowledge developed an RBS specific 1 day Power User course using our standard content and tailored this for delivery of selected modules relevant to specific Site Administrator roles for Power End Users providing online instructor-led training for SharePoint Site Administration delivered over 10 days with up to 50 attendees per session to cater for an initial 500 attendees.
Role Based End Users Site Visitor/Member Training
We created a 2 hour online training session aimed at Site Visitors that was delivered via online instructor led training sessions. The training session created by Combined Knowledge showcased SharePoint and covered key aspects aimed at Site Members/Visitors.
The dedicated user sessions were delivered as 3 x 2 hour sessions per day, catering for 3,000 users.
RBS as part of their approach wanted the development of an in-house Support/Virtual Training and Online Environment.

Combined Knowledge to capture the requirements for the 'Show me' modules, Virtual Power End User Training Modules and Online Modules, which also provided Helpdesk with access to 'On demand/Just in time' training modules, developed 24 RBS specific  'How to' videos that covered key functionality topics, that users would be exposed to on a daily basis.
The 24 RBS specific full audio 'how to' videos were 7-9 minutes in duration and contained the RBS customised templates to ensure a familiar on demand learning environment.
Topics included:
Check in/Check out
Site Libraries
Versioning
Restore and Delete
Publish and un-publish a file version
Rate content, including displaying content ratings
Helpdesk Training
To assist the Helpdesk department, Combined Knowledge developed a Helpdesk virtual training 2 hour online instructor-led session covering:
Overview of SharePoint
Demonstration on how to use the End User Adoption Support tool from a 'helpdesk' perspective. 
These sessions were delivered as 3 x 2 hour sessions per day, over a 6 day period with 50 attendees on each session.
Support+ (End User Adoption Solution)
To provide users with access to on-demand support post training, Combined Knowledge supplied RBS with our Support+ Product.
Support+ is the on-demand help tool for your key business software.
This essential support assistant sits alongside your chosen application ready to provide help whenever you need it.
Support+ is filled with 1,000's of help topics that can be delivered in quick and simple steps, with detailed and in-depth steps, or how-to videos depending on what you prefer at your time of need.
Just In Time Support / Helpdesk and Training offered via Step by Step guides, 'How To' videos, hints and tips and 'Help On Top' enabling users to self-support on demand and reduce the impact on HelpDesk.
Benefits
The Combined Knowledge education solution helped RBS to educate the key users within their SharePoint environment ensuring a good understanding of the product which would drive user adoption whilst ensuring everyone within the organization had access to on demand training and support.
The Training+ Product is brilliant and has helped us a great deal in our initial roll out
All were excellent, the course was well paced and very well delivered, overall the best course that I have attended
Excellent course, all topics were relevant and covered in-depth. Good pace, instructor knew the product inside out
Both course and materials are great. Very in-depth and covered everything I needed
Excellent course, very well presented. I wish I had this material before I started using SharePoint
Get in touch
If you have any questions or comments, let us know. Call our friendly team on: +44(0) 1455 200 520
Email us: sales@combined-knowledge.com or just fill out this quick form and we'll be in touch: