Expert support for Office 365  – built in to your Office applications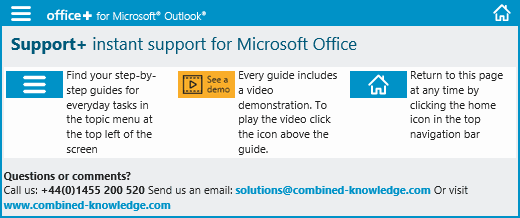 Simple.
Office+ delivers premium End User support for Office 365 on the same page as your Office apps with Step-by-Step guides and pop-out videos to walk you through day-to-day tasks.
Office+ is ideal for new and experienced users alike, helping new users to become familiar with Outlook and make the most of it's features, whilst providing a valuable reference point for more experienced users who need to recap on less common tasks.
Effective.
Allowing users to gain new knowledge, in-flight, without having to leave the window they are working in, or even stop the task they are working on helps everyone stay productive and save time whilst learning how to make the most of your business software.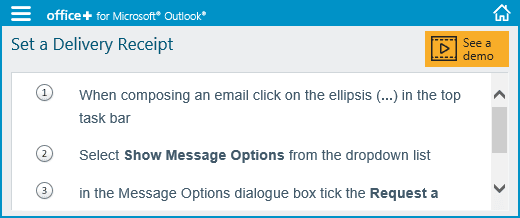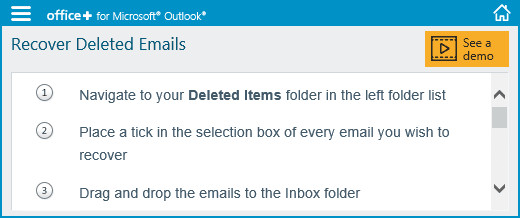 Great Value.
At only $1.99 per user per month for each supported title, Office+ delivers productivity and peace of mind for the price of a cup of coffee.
Office+ for Outlook Online
Office+ for Outlook Online is the first of a range of products to be released in the coming months covering key titles in the Office 365 productivity suite.
Help topics are grouped into 4 comprehensive modules containing over 80 guides:
Getting Started
Working with Emails
Working with Calendars
Working with Contacts

Delivered with the Power of Microsoft Azure
Office+ is a Microsoft Azure hosted app bringing premium Office 365 training directly to your environment:
Access directly from within your Office 365 page, no need to open an external window or application.
Videos are streamed from a Microsoft data centre local to you, assuring the best video quality.
Microsoft Guaranteed availability (>99.9%) Hosted in the cloud, no storage required on your company servers.
Custom content options
If you don't see exactly what you need here, we are able to produce customised versions of our product content to meet your requirements.
Typically, customised content will take the form of:
A rebranded version of the app for your organisation

A mix-and-match selection of existing Combined Knowledge content to fit the roles in your business

or even, entirely new content produced to educate users on your bespoke environment
Want to know more? Contact us to discuss your requirements and we'll be happy to build a bespoke proposal for your business.
Get in touch
If you have any questions or comments, let us know. Call our friendly team on: +44(0) 1455 200 520
Email us: sales@combined-knowledge.com or just fill out this quick form and we'll be in touch:
Get built-in Office 365 application support now
Support for Office 365 on the same page as your Office apps with Step-by-Step guides and pop-out videos to walk you through day-to-day tasks.