Support+
Instant support for your entire business in one solution
Productivity on tap
Whether you have 10 or 10,000 users, everyone should have instant access to effective training and support wherever they need it, without a pause in productivity.
1,000's of topics
Support+ delivers 1,000's of help topics direct to your users helping to achieve the full potential of your business software.
Flexible learning
A wide range of formats caters for all learning styles, including videos, quick how-to steps, in-depth steps, hints and tips, in-line demos
One for all
One app that can support over 30 key Microsoft applications including Office, SharePoint, CRM, Internet Explorer, Visio, Windows and more
Autonomous Learning
Support+ gives every user the means to support themselves, on-demand, using carefully prepared material from a globally trusted education provider. Aimed at all user levels and delivered in a broad choice of different formats, Support+ covers all of your support in one solution.
Support+ is filled with 1,000's of help topics that can be delivered in quick and simple steps, with detailed and in-depth steps, or how-to videos depending on what you prefer at your time of need, the list of topics is growing all the time…
 Support+ is the on-demand help tool for your key business software. This essential support assistant sits alongside your chosen application ready to provide help whenever you need it. Support is delivered in many ways, catering for a variety of learning styles, including:
Step by Step guides
'How To' videos
Hints and tips
'Help On Top'
Computer Based Training modules
This short video will help you to get started with the user interface and navigation.
What Applications are Supported?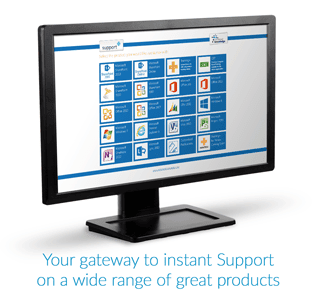 Support+ Packages
The following packages are available, covering all key Office applications for your users
Microsoft® Office® 365 Complete
Microsoft® Office® 2016 Complete
Microsoft® Office® 2013 Complete
Microsoft® Office® 2010 Complete
Microsoft® Office® 2007 Complete
Individual Titles
A wide range of Support+ titles are available for purchase individually, including:
SharePoint 2016 On Premises

SharePoint 2013 On Premises

SharePoint Online

SharePoint 2010

SharePoint 2007

Word Online

Excel Online

Outlook Online
Outlook Web App

OneNote

OneDrive for Business

Groups

Skype for Business

PowerBI

Internet Explorer 11
Lync 2010

Lync 2013

OneNote 2010

Visio 2010

Windows 7

Windows 8

CRM Online
"The Support+ content provided us with the ideal platform to ensure our users had access to premium support and training content, being able to provide our users with access to step by step guides, How to Video's and quick reference steps enabled the users to learn on-demand and helped to encourage adoption of the platform across the organisation"
The Carbon Trust
"The product is brilliant and has helped us a great deal in our initial roll out."
Barnsley Metropolitan Borough Council
Support+ for SharePoint is also available through Content Panda delivering instant access to in-context help, training and support directly in-side the Office 365 and SharePoint Interface.
Custom content options
If you don't see exactly what you need here, we are able to produce customised versions of our product content to meet your requirements.
Typically, customised content will take the form of:
A rebranded version of the app for your organisation
A mix-and-match selection of existing Combined Knowledge content to fit the roles in your business
or even, entirely new content produced to educate users on your bespoke environment
Want to know more? Contact us to discuss your requirements and we'll be happy to build a bespoke proposal for your business.
Get started in minutes
Buy Support+ now and give your entire business access to 1,000's of software support actions written by product experts.