Microsoft Office 365 Training
Training+ for Office 365 gives you on-demand digital training, designed and delivered by Office 365 specialists. Now Training+ integrates seamlessly with the DiLeaP platform adding rich usage reporting options, tailored learning paths, gamification and much more.
CUSTOMISED LEARNING
Create your own version of the platform with access conditions, interface and management. Use custom themes to apply branding
SUBTITLES
All content delivered with closed captions for accessibility in any environment or context.
A.I RECOMMENDATION ENGINE
Using machine learning based on the user's viewing patterns and behaviour, DiLeap suggests relevant learning content.
GAMIFICATION
Points-based reward system to add a competitive element to learning for increased satisfaction and engagment.
INTEGRATION WITH OFFICE 365
Integrates directly with Office 365 and automatically keeps up to date with new releases.
MANAGEMENT & REPORTING CONSOLE
Follow the evolution and activity of individual users and the organisation as a whole with in-depth reporting.
Combined Knowledge is delighted to announce its strategic partnership with Mandarine Academy. Designed and delivered by Office 365 specialists, Training+ on demand Office 365 digital learning videos now seamlessly integrates with the Mandarine Academy training platform, DiLeap.
Enabling content rich usage reporting, custom learning pathways and gamification, this powerful combination of technology provides customers with a best of breed skills programme to boost the overall long-term adoption strategy when making the digital change to Microsoft Office 365.
There are many out-of-the-box communication templates available within this solution to ramp up skills programmes and to support the service desk team. Organisations have the capacity to communicate new learning options to the business and to promote updated Office 365 content to the wider audience to inspire and motivate continuous learning to keep up to date with the evolution of Office 365.
Companies can build custom reports, spin up BI dashboards, collect statistical analysis, align communications strategies and so much more.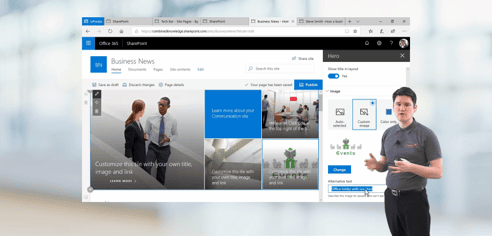 Together they have 26 years of experience in the education and adoption industry globally. Their unified experts have come together over the past 8 months to create the ultimate solution to empower users with best practice and communication management.
Their platform gives organisations the ability to tailor and measure users learning experience, target video content based on user pathways, or tap into the AI functionality with suggested learning topics for example: What apps have the workforce been using? What would they like their staff to start learning?
Businesses have the capability to build adaptive departmental champions programmes and to reward them with persona profiles to encourage the new ways of working and to keep the team engaged.
There are over 600 videos supported by transcripts just like in the classroom, this platform provides companies with 160 hours of remote tracked learning at their fingertips, anytime, anywhere.
Try Training+
Take Training+ for a quick test drive with some short sample content taken from three Office 365 training modules:
Companies using Training+ around the world
Get in touch
If you have any questions or comments, let us know. Call our friendly team on: +44(0) 1455 200 520
Email us: sales@combined-knowledge.com or just fill out this quick form and we'll be in touch:
Your on demand Office 365 training platform
Buy Training+ now and give your entire business on demand access to expert Office 365 training