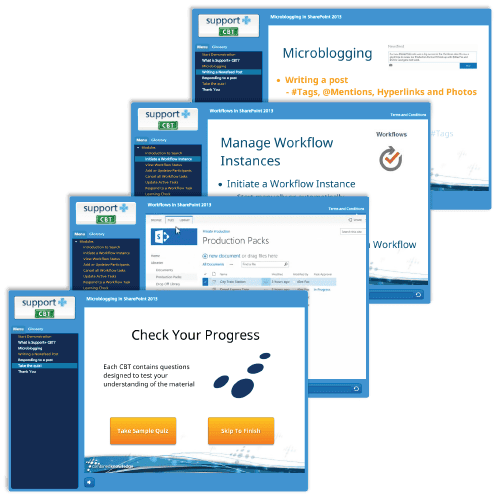 From Combined Knowledge
Self paced SharePoint Training, direct from the desktop for your entire business
Interactive learning
An engaging way for users to learn, understand, retain product knowledge and become more productive
Self-paced progress
Users progress independently at their own pace to ensure each concept is understood
Caters for all learning styles
A combination of quizzes, demos, tests, videos, narration and more keep delivery fresh and novel
Combined Knowledge Computer Based Training (CBT) for SharePoint enables users to work through training material at their own pace and is the ideal way to ensure that all users understand the potential of your SharePoint deployment.
In today's fast-paced business environment, organizations have to make the most of their IT training budget, while ensuring that employees have access to the best educational resources on the market.
Our CBT lessons allow individuals to master SharePoint products and technologies – anytime, anywhere.
Buy CBT from Combined Knowledge now
CBT is available for installation on-premises for
Combined Knowledge CBT is a collection of over 200 modules designed take SharePoint 2013 and SharePoint Online Users through everything they need to know to get the most out of SharePoint.
Users will learn from demonstrations, narrations, videos and step by step guidance and affirm their newly acquired knowledge by completing quizzes, on-screen tasks and simulations.
Try a sample of CBT for SharePoint 2013 and SharePoint Online
Custom content options
If you don't see exactly what you need here, we are able to produce customised versions of our product content to meet your requirements.
Typically, customised content will take the form of:
A rebranded version of the app for your organisation
A mix-and-match selection of existing Combined Knowledge content to fit the roles in your business
or even, entirely new content produced to educate users on your bespoke environment
Want to know more? Contact us to discuss your requirements and we'll be happy to build a bespoke proposal for your business.
Do you use a Learning Management System?
CBT modules can be integrated in to your LMS, or we can help you to find the perfect LMS system from one of our selected Learning Management System Partners and provide you with a complete LMS and Office 365 Training Platform designed to support your training needs across the entire organisation.
Give your entire business the means to make the most of SharePoint
(CBT for SharePoint Online)