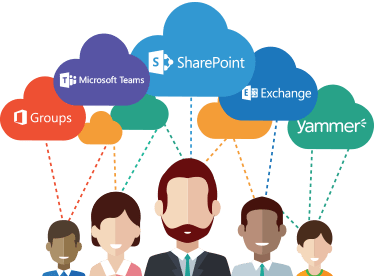 Full-Day Workshop
User Adoption & Productivity in the modern workplace
Experience Microsoft Office 365's Collaboration toolkit
10th April  |  9th May  |  22nd May  |  14th June
The Museum of London, EC2Y 5HN

The heart of business productivity lies with the information worker. Never has one person been able to do so much, both independently and in collaboration with others. And never before has IT faced such high expectations.
Information workers demand the ability to communicate critical business information with rich documents, presentations and spreadsheets; the ability to share that information quickly and securely with reliable communications solutions; and the ability to collaborate with colleagues, customers and partners alike.
Discover the features of Office 365 you never knew existed that can help unlock user potential and maximise business productivity.
Through our one-day complimentary workshop, we aim to help you exploit some of the most useful Office 365 tools such as: Microsoft Teams, Office 365 Groups, SharePoint Online; Skype for Business; OneDrive for Business, Yammer and Exchange Online.
Find out more and register Now >
Simplify Your SharePoint Experience – Monthly Demo Webinar: Content Panda with Support+: Better Together
Looking for the perfect complement to your SharePoint/Office 365 environment to aid end-user adoption, employee training, new hire on-boarding or exposing your companies governance and corporate policies? Look no further than Content Panda with Support+.  Join us for our monthly demo to see how we can help increase adoption, reduce support costs and ensure employees have the tips, tools and help content they need at their fingertips, in-context and on-demand. Demos are live and in person with our team, and there will be time in the end for direct Q&A. Thank you for your interest, and we'll see you on the webinar.
Click the link to join the webinar at the specified time and date:
Thu, Jun 7, 2018 9:00 AM – 10:00 AM PDT

Better Together: Microsoft Teams & Yammer
LONDON
Pewterers' Hall 
Oat Lane
London, EC2V 7DE

Tuesday, June 19
09:00am-06:00pm GMT

 

EDINBURGH
Microsoft
2-4 Waterloo Place,
Edinburgh EH1 3EG

Tuesday, June 12
09:00am-06:00pm GMT
Join us to learn more about Adoption and Governance for Microsoft Teams and Yammer
Office 365 solutions like Microsoft Teams, Office 365 Groups, Yammer, Skype for Business, and SharePoint all add unique value to your business.
BUT, they can also add confusion if you don't provide practical guidance to your users on how and when to use these solutions. Organisations also need to add controls and/or additional solutions to avoid sprawl or any potential data privacy issues.
Join us and learn about: 
Microsoft's new kid on the block: Microsoft Teams
Proactive Operational Governance for Microsoft Teams
Yammer meets Microsoft Teams
Drive adoption and maximise each solution's value
Creating a Centre of Excellence for Microsoft 365 in your Organisation
Subscribe to the Combined Knowledge mailing list and get our latest offers and events sent directly to your inbox